Data Conversion Services
We Help You Convert Data into Documents that are Easy to Access and Manage.
Hitech Export provides data conversion services to "small and large" businesses worldwide. Data conversion specialists at our company, provide all types of document conversion, data migration and data mapping in different database formats.
Data Conversion Services Include:
We convert paper books, articles, brochures, hand written documents, power point presentations etc into well formatted and structured e-book.
Document conversion from (PDF, Doc, PPT, JPEG, TIFF, PNG, XLS etc.) into well structured XML files. We can also handle huge volumes of xml documents and convert them into desired format.
Get easy to upload, HTML files from text, PPT, FLV, PFF, RTF, JPEG, image files etc. We also convert HTML pages into more accessible formats according to client requirements.
We are experts at manual and automatic data capturing from PDF's, hence we deliver fast PDF to word conversion services. We also convert Excel, HTML, JPEG, BMP etc. files into PDFs and vice-versa.
Converting all types of paper documents, scanned images, written records into digital formats like XML, SGML, XHTML, to HTML, PDF, etc.
Our optical character recognition and clean up method to convert documents from PDF to word, and many such varied formats is accurate and fast.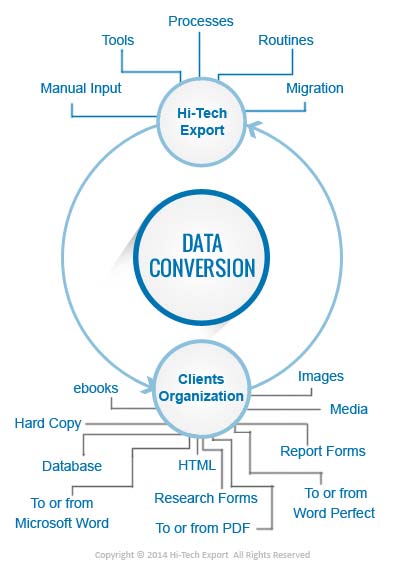 We convert your data into a valuable resource. We accept all types of data, structured or unstructured and convert it into file formats as per client specifications. Even if you have an old legacy system and want to convert it into a new system or have data stored in proprietary file formats, we try our best to find a solution and convert it according to your requirements.
Why Hitech Export?
Fast accurate and affordable data conversion in your preferred formats.
Successful handling of bulk volumes of data and conversion into required formats.
Complete data security and confidentiality guarantee.
We transfer files over secured FTP server via email, CD-Rom, DVD etc. as specified by client.
Contact us to discuss your data conversion requirements.