Desktop Publishing – DTP Services
Avail Print/Publish Ready Copies with Our Professional Desktop Publishing (DTP) Services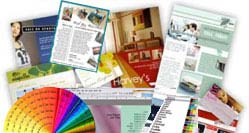 At Hitech Export, we prepare powerful page layouts replete with graphics, text, pictures, tables, logos, charts etc. Our Desktop publishing specialists create innovative designs considering all the aspects like color palette, typesetting, typography, format, character sets, image editing and retouching etc.
Our design team works closely with professional linguists to deliver multilingual desktop publishing services to international clients. Based in India, our company delivers the best DTP outsourcing services to clients across the globe.
What sets us apart is our ability to work on tight deadlines, a cost-effective pricing model and consistent quality standards that always meet our clients' requirements.
Our DTP Experts Create Ready To Print/Publish Copies For:
Brochures
Newspapers
Magazines
Advertisements
User Manuals
Flyers
Annual Reports
Pamphlets
Catalogues
eBooks
eCommerce Pages
Online Publications
Company Newsletters
Our DTP expertise includes conversion from raster to vector, image editing and retouching, typesetting, text formatting, graphical layout designing etc. Our DTP professionals can prepare ready to publish eBooks from PDF's, prepare files for digital publishing and Convert PDF's for desktop publishing.
Clients Come to Us for Document Creation And Publishing Requirements Like:
Data Entry / Data Processing
Graphic Resume Creation
DTP Services For Legal Documents
Preparing Up-To-Date Presentation Slides
Typesetting And Pagination for All Types of Documents
Ready to Publish/Print High Quality Documents For Magazines, eBooks And Newspapers
Additionally we can also resize layouts without disturbing the original design and provide content translation done by professional linguists and language experts. We have exceptional proficiency in providing multilingual DTP services for a wide range of languages, including but not limited to English, French, Spanish, Italian, Polish, German, Greek, Japanese etc.
Every Desktop Publishing project undergoes a multilayered quality check process before it is approved.
Services, We Offer: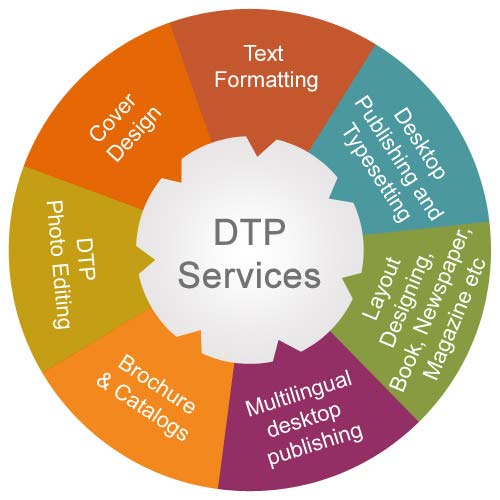 Our Software Capabilities:
Microsoft Word, PowerPoint, Excel, Visio
QuarkXPress Desktop Publishing
Adobe Creative Suite: Photoshop, Illustrator, InDesign, PageMaker, FrameMaker, Captivate, and Flash
CorelDraw
Apple iAuthor – ePublishing
We Can Deliver DTP Projects In The Following Formats:
PDF, CDR, PSD, JPG, TIFF, Doc, Docx, GIF, Flash, Video, SGV, EPS, XLS, PPT, XML, INDD, AI etc.
Request a quote for your Desktop Publishing (DTP) project.