Web Research Services
In-Depth Online Research Support to Help Your Business Gain a Competitive Edge.
Hitech Export offers complete web research services, inclusive of online information research, internet research, specific data research, data mining and data scraping.
We use customized bots, spiders and macros and automated web research tools to scrape all types of data from the internet. Our web research team validates the scraped data and also creates databases in formats that are easy to analyze. We can provide you with highly useful data for competitor analysis, investigating market trends, identifying your market segment, planning marketing campaigns and much more.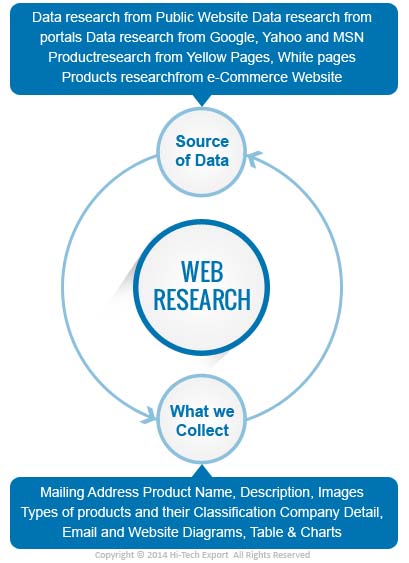 Our Web Research Capabilities Include:
Data Mining Services
Data Collection Services
Data Extraction Services
Data Validation Services
Web Scraping Services
We Provide In-Depth Internet Research Support For:
Lead Research:
Well researched information for professional profiles, resumes, and contact details with details like name, address, e-mail, phone numbers, etc. to help you generate leads.
Property Documents Research:
Complete research of property documents involving details like mortgages, land records, title research, deeds, foreclosures, releases, credits, etc.
Products Research:
Helping you stay ahead in competitive landscape with product details like technical specs, design, SKUs, pictures / images, trends, price, user feedback, ratings, etc.
Online Research:
Complete online research for eCommerce, mobile devices, movies, pictures, digital media, online shopping, cell phones, TV, etc.
Professional Services:
Get a detailed survey report and data collection of professionals, doctors, plumbers, realtors, carpenters, legal experts, academic professionals, etc.
Events Research:
We give you complete well researched and validated details about exhibition, trade show, seminar, webinars etc pertaining to your industry segment.
Document Research:
Avail complete research of relevant online journals, magazines, thesis, technical, white papers, news, etc.
Company / Business Research:
We provide in-depth industry research, competitor analysis, market report, financial / annual report etc to help you plan your strategies and race ahead in competition.

Why Hitech Export?
English proficiency and extensive web research experience helps our data researchers conduct focused online research.
Our customized internet research services are high quality, time-bound and cost-effective.
Our intelligent market survey and competitor research helps build formidable business strategies and marketing campaigns.
We ensure high levels of information security and data confidentiality.
Our team can efficiently handle web research projects to meet specific requirements of clients.
Request a quote for your web research project.