Infrastructure
We have state of the art infrastructure with over 650+ workstations and multiple (T-1) Lines for high-speed data communication.
State of Art Facilities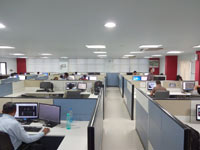 Built-up area of more than 40,000 Sq.ft. spread over 4 offices
Total of 650+ workstations
Adequate storage area with full security
Round-the-clock power supply with backup UPS and generators
Data backup facility with CD writer, zip drives, etc.
Multiple (T-1) Lines for high-speed data communication
High-speed scanners
Printers: laser jet, desk jet, plotters, etc.
Adequate fire safety systems
Ergonomically designed furniture
In-house recreation facilities
Server and Systems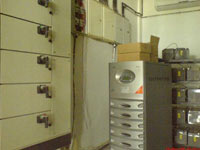 Servers: Windows 2000 Advanced Server, Linux Servers, Back-up Server
CISCO Firewall with 128 bit data encryption for Data Security over the Net
Structured cabling for high speed data access
Ability to support batch upload/download
Ability to expand to multiple database-server and multiple data/document servers over LAN/WAN
High-end servers at each location with a back up server
Security and Safety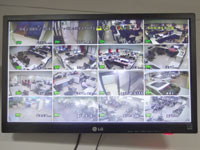 Constant monitoring of entire premises with CCTV — including parking, lobby, cafeteria, reception and production labs
Strict prohibition of unauthorized access to systems
Constant monitoring of workstations to keep a tab on unofficial activities
Locked premises with Access Control Card System. Each employee needs to wear his/her I-card.
Backup office for disaster management
14 Servers & Backup Servers
Communication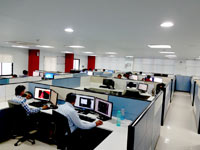 Access to dedicated leased line for high-speed Internet
Modem, routers and all necessary facilities
Video conference facilities.
Customer support via e-mails, phone calls and chat tools
Contact us to know how we can help you with our infrastructure facilities.