CFD Analysis Services
Hitech Export provides full service Computational Fluid Dynamics (CFD) analysis and CFD consulting services. We specialize in CFD Simulation, Fluid Flow Analysis, Thermal Analysis and Advanced Turbulence Modeling.
Our CFD consultants help you resolve many different flow physics problem, including advanced turbulence modeling, fluid-structure connection, multiple stage circulation, burning & cavitation.
Our CFD Analysis Services: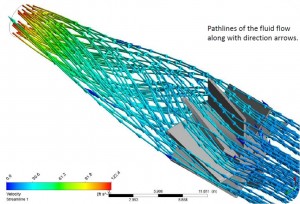 Heat Transfer Analysis of Diesel Engine Head, Fins, Combustion Chamber, Boiler, Burner, Heat Pipes, Building, Gas Turbine Blades, Two Pass Cooling.
Hydrodynamic Analysis of Side By Side Offloading, Offshore Lng Terminals, Hydrofoils, Submersible Vehicles, Propellers, Impellers, Marine Structures, Surface Water Modeling and Marine Plant.
Aerodynamic Analysis for Airborne Particle, Aircraft wing and body analysis, Fan and Rotor Design, Wind turbine blade design, Vortex Shedding
Combustion Analysis for Power Plants, IC Engines, Gas Turbines, Burners, Boilers, Furnaces, etc.
Fluid Structure Interaction Simulations of Gas turbine Blades, Rotors Blades, Wind Turbine Airfoils.
HVAC Analysis for Data Centers, Shopping Malls, Auditorium, Academic Buildings, Airports, Car Parking, Buildings.
Multiphase Flow Analysis for Well Testing, Diffusion, Gas Well Liquid Loading, HVAC and indoor climate control systems, Wind Turbine Airfoil, Slurry Transport.
Turbo-machinery Analysis for Axial and Centrifugal Pumps, Fans and Blowers, Gas and Steam Turbines, Wind Turbines, Blade.

We follow standard process to solve fluid dynamics problems that include problem identification, calculation, flow simulation, flow visualization, comparing results and reports.
Software Expertise:
ANSYS Design Modeler / Meshing, ANSYS CFX/ Fluent, OpenFOAM, ParaView, HyperMesh, STAR-CCM+, COMSOL Multiphysics, Abaqus/CFD
CFD Solution for Industries:
Heavy Machinery, Product Design / Optimization, Building Physics / HVAC, Energy / Power Generation, Oil & Gas, Aerospace, Automobile, Process Engineering
Why Choose Us?
Experience in CFD analysis to resolve flow analysis problems encountered in variety of industries.
Qualified & experienced CFD engineers, domain experts and CFD consultants.
To support our CFD Team we have experienced team of FEM engineers, modelers and CAD / mechanical design engineers.
Large team of CFD engineers and CAD / design engineers to support our CFD team.
Strong backbone of technical & computational architecture & infrastructure
Contact us to know more about our CFD Analysis services.