Mechanical Modeling Services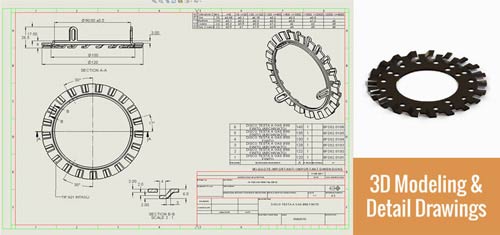 Hitech Export helps clients during the conceptualization, mechanical design and modeling state of projects with presentation material in the form of images and detailed animation in either mpeg and AVI files or formats.
We deal with creation, manipulation and storage of geometric objects as our service is full of innovation, creativity and challenge. We deliver mechanical 3D modeling to our clients by applying Solid Works and 3D MAX. We aim to make the work of builders, architects and designers a lot easier and faster.
We ensure speed, cost and availability during the conceptual stages of product design to produce prototypes of mechanical 3D modeling. We create rapid prototypes and working models to bring the product to the stage efficiently. We save the overhead expenses by avoiding time consuming and costly process in the next stage of development.
10 Reasons to Choose Hitech Export as Your Project Partner:
We ensure speedy validation of design following specification and design rules
We provide effective 3D visualization for full fledged manufacturing drawings
We create accurate wire frame geometry creation. We ensure simplified design of assemblies
We allow for 3D sectional views
We maintain strong quality
We reduce capital cost of infrastructure
We apply latest standard and technology
We hire highly experienced 3D designer expert team
We ensure quick turnaround time with highest accuracy
We save human resources
We at Hitech Export use AutoCAD software, 3D CAD models to bring life and transparency into the design goals with respect to clearance, clash detection, tolerance aspect. Our aim is to communicate design ideas much more effectively to our clients.
Contact us to get high quality, time bound and cost effective Mechanical 3D Modeling Services.