Finite Element Analysis Services
With more than 20 years of experience, Hitech Export is a leading FEA company offering accurate Finite Element Analysis services to the clients worldwide. We have vast experience in applying Finite Element methods to problem with static or dynamic loads, linear & nonlinear materials and contact interactions.
With our expert FEA consulting services we perform precise dynamic analysis including crash analysis, impact analysis, metal forming analysis, and deep drawing analysis. At Hitech Export, our FEA consulting engineers are dedicated to FEA design testing, FEA modeling & simulation, new concepts evaluating, structural analysis, fluid flow analysis and predictive performance of the equipments.
Our FEA Services: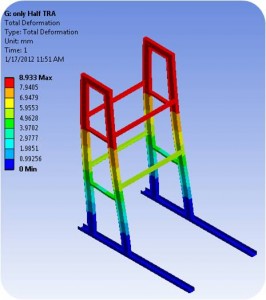 Static Analysis Services
Structural Analysis (Fatigue, Strain, Stress and Deformation)
Thermal Analysis Services (Transient, Radiation, Conduction and Convection)
Nonlinear Stress Analysis
Handling Analysis
Stiffness Analysis
Composites Modeling
Linear Static Stress Analysis
FEA Mesh Generation and Modeling
Fluid Flow Analysis (Velocity, Pressure And Flow)
Our Software Expertise: ANSYS, NASTRAN, CosmosWorks, LS-DYNA, ANSA, HyperMesh, CATIA, Pro-Mechanica
Industry We Serve: Aerospace, Automobile, Heavy Equipment / Industries, Energy / Oil & Gas, Civil Engineering, Chemical Engineering, Machine Parts & Tools, Medical Devices and more…
Why Choose Hitech Export for FEA Services?
Reduction in field failures and product recalls
Increase in productivity
Reduction in number of prototypes needed
Reduction in physical tests
Contact us to know more about our Finite Element Analysis (FEA) Services.