Excel Data Entry Services
Hi-Tech Export is a leading BPO services outsourcing company, offers comprehensive excel data entry services to store, organize & chart all types of textual, alphanumeric, graphical and financial data into excel sheets. We have the ability to capture all information accurately into excel sheet from various sources like PDF, scanned images (.jpg, .bmp, .tiff etc), handwritten documents, html webpages, xml documents, forms, etc.
Excel Data Entry Services:
Excel Data Entry from PDF files & Scanned Images
Database Creation In Excel Sheet
Name, Address, Location Details into Excel Sheets
Numeric Excel Data Entry
Web Data Extraction into MS Excel
Data Entry into Excel from Paper Questionnaires / Survey Forms
Database and Mailing Compilation
All types of information into MS Excel Sheets
We have a team of professionals who are familiar with excel shortcuts & formulas and also have good typing speed to complete the assigned talk in a very short turnaround with exceptional accuracy rate.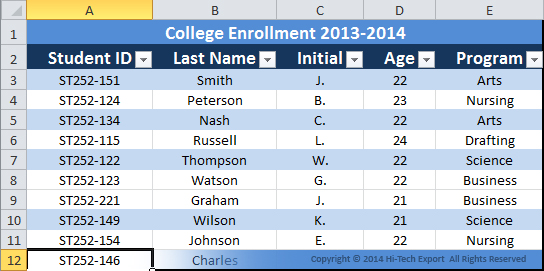 We offers excel data entry services to varied business sectors – banking, construction, real estate, medical, education, finance, government, hospitality & travel, insurance, libraries, manufacturing, media & entertainment, logistics, retail & e-commerce, etc.
Why Choose Hi-Tech Export for Excel Data Entry?
Highest Accuracy Level up to 99.98%
Accept all Types of File Format for Data Entry in MS Excel
Fast Turnaround Time
100% Security and Privacy of Outsourced Data
Very Affordable Rates
Contact us to get low cost, time-bound and accurate excel data entry services.