Form Processing Services
Accomplishing the most comprehensive business tasks with latest features included will provide maximum business advantage. Hi-Tech Export is a reliable firm based in India that is best known for forms processing India in a secure manner. Our applications with latest processing features in an affordable manner will prove to be an asset for you.
Quick and Cost-Effective Form Processing Services
Choose Our Form Processing Services:
We focus on the development of robust system of forms processing that is not only comprehensive in nature but also steadfast in performance. Form processing executives at Hi-Tech Export (HTE) are enabled with latest processing standards needed for survey form processing and web form processing that are required for the security and integrity of data in a more reliable manner.
Survey Form Processing
Instant processing and storage of all responses from sample population
More scope to perform Statistical Analysis through latest techniques
Medical Form Processing
Ability to file for medical claims in an instant manner
Medical form processing services with 100% quality
Legal Form Processing
Faster processing times with utmost quality standards maintained
Handling and converting of data in any format as per need
Web Form Processing
Efficient processing of web forms with all the features included
Save time and realize best quality of processing for web forms
At Hi-Tech Export, we have a pool of seasoned executives who understand your requirements well. Be it Business related forms or Medical forms, our team of developers will always be ready to serve you in the best way.
Form Processing Workflow: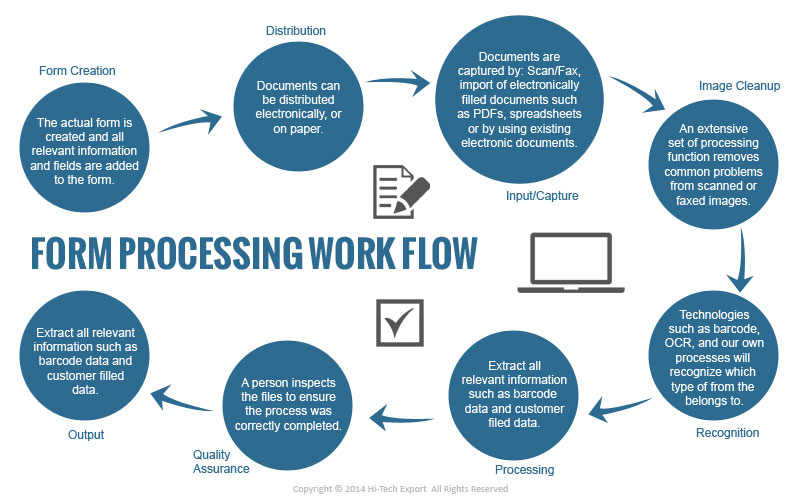 Benefits of our Form Processing Services:
Custom processing of online forms
Perfect maintenance of security while processing
Form processing related to various fields such Medical and Legal
Development of interactive forms processing
Providing reliable form processing based on latest features
Faster processing of online forms meant for various purposes
Processing online forms in exactly the same way as you desire is a challenging task to accomplish. However, the enormous levels of talent of Hi-Tech Export's professionals will come to the fore whenever you are in need of our form processing services.
Contact us to get high quality, time bound and cost effective forms processing services.