Rapid Prototyping Services
Hi-Tech Export has expertise in rapid prototyping services, generally known as the process of converting 3D CAD drawing into physical parts to develop conceptual models.
With a team of experienced professional, it has been able to set up a global client base and has been a challenging competitor in the marketplace.
Solution We Provide For: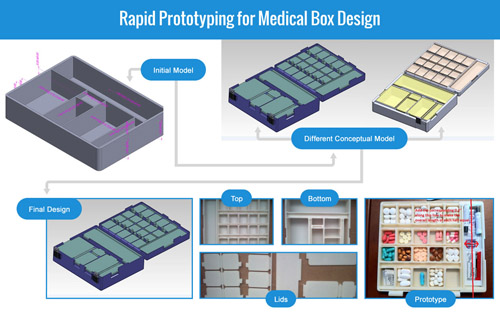 Stereo lithography (SLA)
Selective Laser Sintering (SLS)
CNC Machining
Fused Deposition Modeling (FDM)
Laminated Object Manufacturing (LOM)
Solid Ground Curing (SGC)
We have a client centric approach and build rapid prototype model that is in accordance to the comprehensive functionality requirements for the required product/part/assembly.
Benefits With Us:
Reduction in overall cost of project and lowering of risk on the project
Multiple applications for the mechanical projects
Proper testing of manufacturability aspects of a project
Greater design visualization in real time
Early detection of design errors and the subsequent elimination
Collective discussion by the designer and client about the mechanical project to achieve the desired result and leading to higher output.
Hi-Tech Export uses the latest technology for supplying Rapid Prototyping or 3d rapid prototyping services. We take assistance from professionals well versed in the handling of such systems. The services are applied to diverse fields like designing, engineering sectors, aerospace industry, automotive sector, defense services and medicine.
We are capable of managing multiple processes and secondary operations related to prototype development services. We use various engineering grade materials to satisfy the needs and requirements of various esteemed clients.
Contact us as per your needs for various projects.