Solidworks Design Services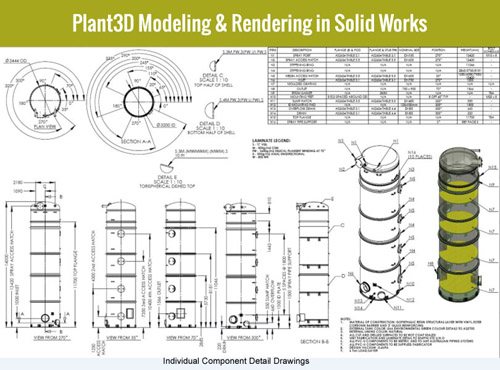 Hi-Tech Export is an eminent brand name in SolidWorks design services catering to the requirements of mechanical engineers, automation firms, and product die designers.
Our SolidWorks designers are highly proficient in creating highly interactive 3D SolidWorks model to characterize dimensional data of original object in the requisite time period specified by the client. We aim at resolving simple to intricate design problems that arise in SolidWorks design and provide drafts that are highly precise and accurate.
Our forte lies in SolidWorks mechanical design and drafting. Clients that require mechanical design for mechanical engineering projects select us to get the job done in the requisite time limit.
Our mechanical engineering team uses licensed SolidWorks Premium CAD software as a part of its engineering design tools to make the most of the productivity.
Some of the SolidWorks Design Projects that We are Competent to Handle include:
2D CAD Drafting
3D CAD Modelling
3D Photo-Realistic Rendering
3D Scanning and 3D Model Conversion
Solidworks Design Services:
3D CAD Models from 3D-Scanning Data
3D Drawings for Rapid Prototyping
Die Design in Solidworks
Dimensional Inspection & FEA Analysis
Engineering Design with SolidWorks
Manufacturing Drawings
Mechanical Design in Solidworks
Other SolidWorks Support
Solidworks 3D CAD Design & Modeling
SolidWorks Surfacing Design
FEA Analysis Using SolidWorks
Leveraging Multifaceted Proficiency:
Illustrious SolidWorks design services yet cost effective with timely delivery
Hire SolidWorks designers who are highly skilled, trained & experienced
Bring our novelty and knowledge together to produce effective SolidWorks design
No cost for infrastructure, hiring or payroll related formalities
You focus on your core competencies when we manage your SolidWorks design
Send your requirements related to SolidWorks design to Hi-Tech Export.